Jodorowsky on Jean "Moebius" Giraud

"I needed a precise script... I wanted to carry out film on paper before filming it... These days all films with special effect are done as that, but at the time this technique was not used. I wanted a draughtsman of comic strips who has the genius and the speed, who can be used as me as a camera and who gives at the same time a visual style... I was by chance with my second warrior: Jean Giraud alias Moebius (at the time he had not made Arzach, nor The Airtight Garage). I say to him: "If you accept this work, you must all give up and leave tomorrow with me to Los Angeles to speak with Douglas Trumbull (2001: A Space Odyssey)". Moebius asked for a few hours of think about it. The following day, we left for the United States. It would take too a long time to tell... Our collaboration, our meetings in America with the strange ones illuminated and our conversations at seven o'clock in the morning in the small coffee which was in bottom of our workshops and which by "chance" was called Café the Universe. Giraud made 3000 drawings, all marvellous... The script of Dune, thanks to his talent, is a masterpiece. One can see living the characters, one follows the movements of camera. One visualizes cutting, the decorations, the costumes... All that with, each time, some features of pencil... I was behind his shoulders by asking him for the various points of view... By putting in scene the "actors", etc One filmed..."
---

House Harkonnen

Baron Vladimir Harkonnen
Jessica's father, accomplice of the Emperor of the Galaxy.

The Baron Harkonnen is an immense man of 300 kilogrammes. he is so fatty and heavy that, to move, he must make continuous use of antigravitational bubbles attached at his limbs... His delusion of grandeur does not have limits.

Feyd Rautha
Baron Harkonnen's nephew and lover, plots to make the himself crowned Emperor of the Galaxy.
Rabban the Beast
Dictator, idiot, criminal, hermaphrodite.
Piter
Mental murderer of Baron Harkonnen, effeminate, drugged, sadist, in love with Lady Jessica.

---

House Atreides

Duke Leto Atreides
Paul's father, honest chief, right, sincere, who hopes to unite all the poor planets in order to create the biggest of all the economic powers.

Duke Leto would be a man castrated in a ritual combat in the arenas during a bullfight.

Lady Jessica
Paul's mother, Duke Leto's concubine, natural daughter of Baron Harkonnen, belongs to the higher order of the Bene Gesserit.
Paul Atreides
Muad'dib, mutant-child with a messianic destiny.
Duncan Idaho (left)
Fencing master, Duke Leto's servant and friend.

Gurney Halleck (right)
Warrior and troubadour, Duke Leto's friend.
Thufir Hawat
Duke Leto's friend and fencing-master, has a mutant-brain as powerful as a computer.
Doctor Wellington Yueh
Victim of the circumstances, traitor because of love.

House Corrino

The Emperor of the Galaxy Padishah Shaddam IV
A man who has expelled logic from the Galaxy.

The Emperor of the galaxy is insane. He lives on an artificial gold planet, in a gold palace built according to not-laws of antilogical. He lives in symbiosis with a robot identical to him.

A Sardaukar
Solider, murderer of the Emperor, the most dreadful warriors of the empire.
Count Fenring
The Emperor's ambassador, plots genetically: dominating his jealously, he offers his wife to Feyd Rautha in order to produce the awaited prophet.

---

Various

The Reverend Mother Gaius Helen Mohiam
Bene Gesserit, holds all the magician women's secrets and powers and wants to create by genetic plots a Messiah who will give control of the Galaxy to women.
Kynes
Planetary ecologist, dreams to fill up with water a desert-planet. Four hundred years old, being in love with a woman for the first time in his life.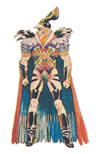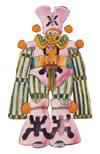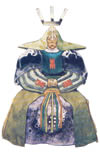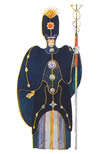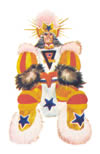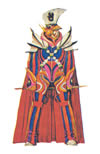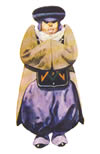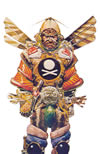 © Jean "Moebius" Giraud
---
Storyboard for Scene 81
| | | |
| --- | --- | --- |
| | | |
| Long shot of the fight. | Feyd yells "Fremen scum!" | Farok is as if transfixed. |
| | | |
| The tip of Feyd's dagger scratches Farak's forehead, a drop of blue blood flows. | Feyd disengages himself. | Farok's movememts slow down ... Feyd dances around him. |
| | | |
| Guest cheer Feyd. | Paralysed, Farok falls to his knees. | Feyd dances in front of the Fremen ... turns his back to Farok. |
| | | |
| Farok attempts a last attack which Feyd avoids with ease. | In passing Feyd brings his dagger into Farok's neck. | Farok dies. |
---
More Storyboards