New Dune Movie
Here you will find all the latest information on the new attempt to bring Frank Herbert's novel "Dune" to the big screen!
Release Dates
15 September: Belgium, France, Norway, Sweden, Switzerland
16 September: Azerbaijan, Belarus, Cis, Denmark, Germany, Holland, Italy, Kazakhstan, Russia, Ukraine, Singapore, Taiwan, Hong Kong
17 September: Austria, Estonia, Finland, Iceland, Latvia, Lithuania, Spain
23 September: Egypt, Bahrain, Kuwait, Lebanon, Middle East, Qatar, Saudi Arabia, Uae, Oman
13 October: Indonesia, Philippines, Thailand
14 October: Greece, Malaysia
15 October: Ghana, Nigeria, Nigeria, India, Japan, Vietnam
16 October: East Africa
20 October: Korea
21 October: Argentina, Bolivia, Brazil, Chile, Colombia, Costa Rica, Croatia, Cyprus, Czech Republic, El Salvador, Guatemala, Honduras, Hungary, Ireland, Israel, Mexico, New Zealand, Nicaragua, Panamá, Peru, Portugal, Serbia, Slovakia, Slovenia, UK, Uruguay, Venezuela
22 October: United States, Canada, China, Bulgaria, Poland, Romania, South Africa, Turkey
2 December: Australia
Current Status
22 July 2021: Second Dune trailer released, view the full 3:27 Dune trailer here.
21 July 2021: An Exclusive Look at the Dune movie featuring never-before-seen footage, music, and a first look at the New Trailer in select cities around the world.
13 July 2021: IMAX Event Teaser revealed by IMAX on Twitter, view the 15 second Dune IMAX teaser here
5 October 2020: Dune is delayed until 1st October 2021, according to Collider
9 September 2020: The first trailer for Dune is released
13 April 2020: Denis Villeneuve Compares Paul Atreides To The Godfather's Michael Corleone in Empire
11 May 2020: Timothée Chalamet's Paul Atreides Is 'Mesmerised By The Desert' In Exclusive Image in Empire
13 April 2020: The first official picture is released at Vanity Fair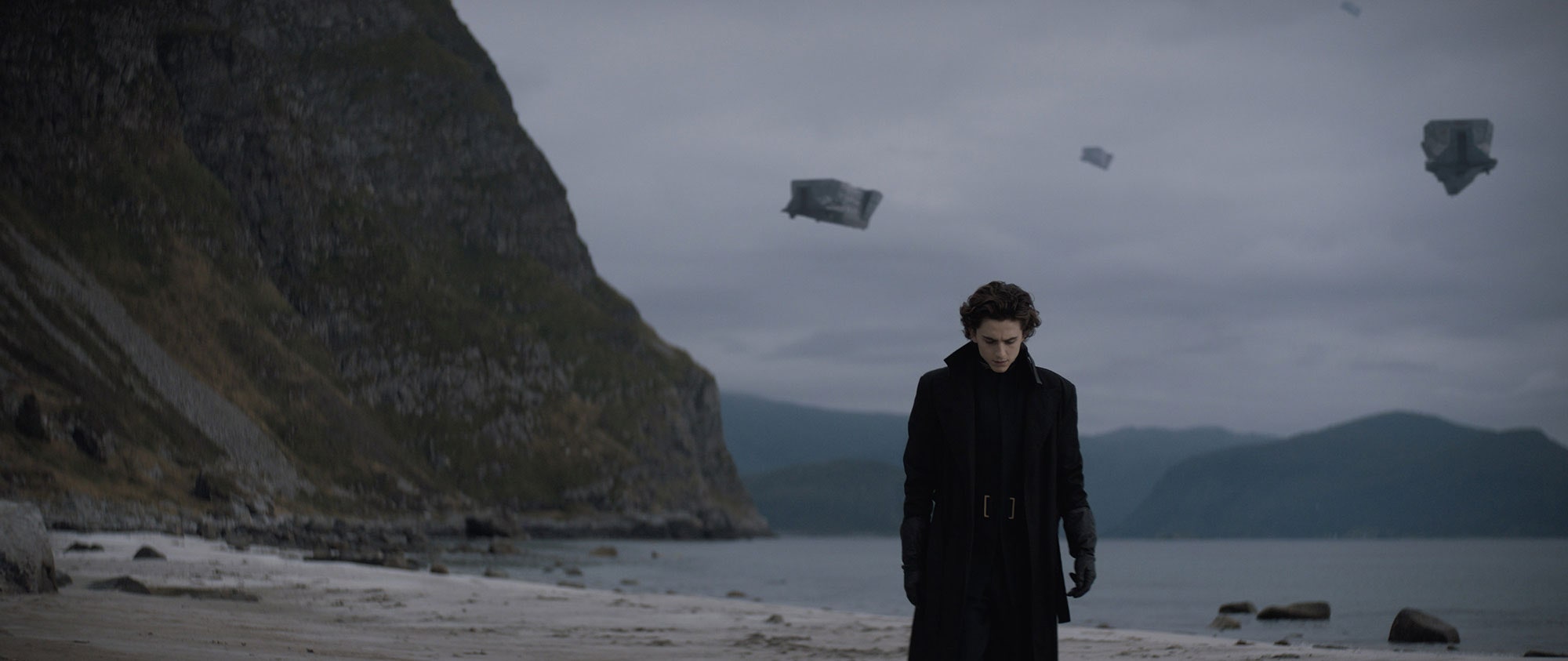 18 March 2019 A busy news day!

Filming officially started on Denis Villeneuve's Dune
Hans Zimmer is creating the score
Stephen Henderson will play an unknown role
Business Wire
17 March 2019: Chang Chen is "in negotiations" to play Dr. Yueh according to The Hollywood Reporter.
19 February 2019: David Dastmalchian to play Piter De Vries according to Deadline.
15 February 2019: Warner Bros. has scheduled Dune for November 20, 2020 according to Variety.
14 February 2019: Jason Momoa is "in talks" to play Duncan Idaho according to The Hollywood Reporter.
13 February 2019: Josh Brolin is to play Gurney Halleck according to Variety.
1 February 2019: Javier Bardem is "in negotiations" to play Stilgar according to Variety.
30 January 2019: Zendaya was announced as "being eyed to play" Chani by Collider.
29 January 2019: Oscar Isaac was announced as Duke Leto Atreides by Variety.
16 January 2019: Charlotte Rampling was announced as the Reverend Mother Gaius Helen Mohiam by The Hollywood Reporter.
9 January 2019: Stellan Skarsgård was announced as Baron Harkonnen by The Hollywood Reporter and Joe Walker as editor by IndieWire.
7 January 2019: The Hollywood Reporter announced that Dave Bautista would play Beast Rabban.
On 5th December 2018 The Playlist reports that Greig Fraser with be the cinematographer on Dune.
Academy Award-Winning DP Roger Deakins Will Not Team With Denis Villeneuve On 'Dune'
On 5th September 2018 Variety reports that Rebecca Ferguson could be Lady Jessica.
Rebecca Ferguson in Talks to Star Opposite Timothee Chalamet in 'Dune' Reboot
On 17th July 2018 Variety reports that Timothée Chalamet is in final talks to star as Paul Atreides in the Denis Villeneuve-directed Dune.
Timothée Chalamet In Talks To Star In 'Dune' For Denis Villeneuve And Legendary
On 12th July 2018 Omega Underground reports that Denis Villeneuve is eyeing a return to Orgio Film Studios in Budapest, Hungary. The same stage location where he shot Blade Runner 2049.
Denis Villeneuve Eyeing A Return To Budapest For 'Dune's Production Start In February
On 5th April 2017 Variety reports that Eric Roth will write the script for Denis Villeneuve's Dune.
'Forrest Gump' Writer Eric Roth to Pen Denis Villeneuve's 'Dune' Reboot
On 1st February 2017 Brian Herbert stated on his Twitter account that Legendary Pictures had signed Denis Villeneuve to direct "the exciting new DUNE series film project".
It's Official: Denis Villeneuve Will Direct DUNE For Legendary Pictures
On 21st December 2016 Variety reports that Denis Villeneuve is in early talks to direct Legendary's "Dune"
'Blade Runner 2049' Helmer Denis Villeneuve Eyed to Direct 'Dune' Reboot
On 21st November 2016 Legendary Entertainment announced it had acquired the rights from the Frank Herbert estate for "Dune", granting the production entity the film and television motion picture rights to the work.
Legendary Lands Rights to Classic Sci-Fi Novel 'Dune'
Cast & Crew
| | |
| --- | --- |
| Production Company | Legendary Entertainment |
| Release Date | 22nd October 2021 (US) |
| Director | Denis Villeneuve |
| Producer | Thomas Tull |
| Producer | Mary Parent |
| Producer | Cale Boyter |
| Executive Producer | Brian Herbert |
| Executive Producer | Byron Merritt |
| Executive Producer | Kim Herbert |
| Screenplay | Eric Roth & Jon Spaihts |
| Cinematographer | Greig Fraser |
| | |
| --- | --- |
| Paul Atreides | Timothée Chalamet |
| Lady Jessica Atreides | Rebecca Ferguson |
| Duke Leto Atreides | Oscar Isaac |
| Duncan Idaho | Jason Momoa |
| Baron Vladimir Harkonnen | Stellan Skarsgård |
| Thufir Hawat | Stephen McKinley Henderson |
| Gurney Halleck | Josh Brolin |
| Stilgar | Javier Bardem |
| Liet Kynes | Sharon Duncan-Brewster |
| Dr. Wellington Yueh | Chang Chen |
| Beast Rabban Harkonnen | Dave Bautista |
| Piter De Vries | David Dastmalchian |
| Chani | Zendaya |
| Reverend Mother Mohiam | Charlotte Rampling |
| Jamis | Babs Olusanmokun |
| Herald Of The Change | Benjamin Clémentine |
| Bene Gesserit Sister | Souad Faress |
| Shadout Maps | Golda Rosheuvel |
| Lieutenant Lanville | Roger Yuan |
| Arrakeen Residency Gardener | Seun Shote |
| Sardaukar Bashar | Neil Bell |
| Hawat Specialist | Oliver Ryan |
| Harkonnen Deaf Trooper | Stephen Collins |
| Harkonnen First Trooper | Charlie Rawes |
| Harkonnen Second Trooper | Richard Carter |
| Sardaukar Assassin | Ben Dilloway |
| Shamir | Elmi Rashid Elmi |
| Tanet | Tachia Newall |
| Female Fremen | Gloria Obianyo |
| Male Fremen | Fehinti Balogun |
| Baron Servant | Dora Kápolnai-Schvab |
| Baron Servant | Joelle Amery |
| Atreides Lieutenant | Jimmy Walker |
| Sardaukar Soldier | Paul Bullion |
| Human Spider Proxy | Milena Sidorova |
| Harkonnen Guard | János Timko |
| Bene Gesserit Ancesters' Voice | Jean Gilpin |
| Bene Gesserit Ancesters' Voice | Marianne Faithfull |
| Bene Gesserit Ancesters' Voice | Ellen Dubin |
---
2007-2011 Attempt
March 22, 2011: Paramount Ends 4-Year Attempt To Turn Frank Herbert's 'Dune' Into Film Franchise (Source: deadline.com)


Pierre Morel steps down as director (Source: deadline.com)
Paramount has until Spring to start production otherwise their option expires (Source: deadline.com)
First draft completed by Josh Zetumer (Source: The Rouge Wave)
Concept art produced by "Jock" (Mark Simpson)
Could be greenlit soon (Source: io9)
Robert Pattinson (Twilight) has apparently meet with director Peter Berg, but it is unknown what they discussed. Could Pattinson go from vampire to Kwisatz Haderach?
Peter Berg 'not directing' (Source: Byron Merritt at dunenovels.com forum)
Pierre Morel (Taken, 13th District) takes over as director.
Pierre Morel (who is no longer directing) on Dune
"Oh my God yes, I've been a fan of that book - because I will not refer to [Lynch's] movie - I've been a fan of the book since I was a teenager as a David Lynch movie, I loved it. [But] as a "Dune"" fan [of the book], I was not such a big fan."
I've been reading it [the original book] over and over again - well, I'm 45 now, so for 30 years So, by the time I bought the sixth book I had already read the first one six times! So, I'm a hardcore fan.
[My movie] is all about the first book. I'm trying to be very respectful to the original novel But it's a challenge; there's a lot of expectation, all the readers will be waiting for me with their shotguns. All the non-readers will also be waiting for us, because it's such a complex, rich novel and you have to make it accessible to those who have not read the book. So, it's a tough challenge but I'm very excited about that.?
Pierre Morel at MTV Movies Blog
Peter Berg (who is no longer directing) on Dune
My experience with the book was different than David Lynch's experience or the people behind the Sci Fi Channel's experience. I found it to be more of an adventure tale, more of a muscular action/adventure story. I think that's my approach, not as an R-rated film, but as a pretty hard PG-13 film about a young man dealing with issues of vengeance over the death of his father and wanting some payback and having to come to terms with his destiny along the way.
Peter Berg at MTV Movies Blog
"I think I had a much more different experience, I think, with the book than David Lynch did. To me, I think my interpretation will feel significantly different from that and the [Syfy] Channel miniseries that aired. I have a different experience than both of those filmmakers did."
"[The book] was much more muscular and adventurous, more violent and possibly even a little bit more fun, I think those are all elements of my experience of the book that can be brought in without offending the die-hard fans of the Bene Gesserit and Kwisatz Haderach. There's a more dynamic film to be made."
"I'm finishing this [documentary] now, we're editing it now, I think it's going to be in the Toronto Film Festival. [I'm] working now on getting Friday Night Lights up for the new season and getting Dune up and running. I'm working all the time."
Peter Berg at Sci Fi Wire
We're gonna have a script in at the end of this month [January 2009]. Josh Zetumer's writing the script. I fully intend to do it. It's another example of where I'm aware that there's -- I don't think rabid is a strong enough word -- fanbase for the film, and I understand that some people support me directing it and some don't. All I can tell you is that I was as much a fan of the book as anyone, and I'm really looking forward to getting that script in.
To me, the book had a tone that was, for lack of a better word, more muscular. It was a little dirtier, it was scarier, it was rougher, it was more intense, and I think that Lynch's film and the Sci Fi miniseries took a tack that was different. It wasn't any of those things as I remember the book being. There were so many different aspects of Herbert and his personality.... I will focus on -- again, for lack of a better word -- a rougher, more muscular version of Herbert's work. A more muscular interpretation.
There's a scope to Dune, and certainly a Shakespearian quality to that family, that I don't pretend to ignore.
Peter Berg at Television Without Pity
"The hype around [Dune] is understandable but it's a little excessive. The fanatics are worried I'm going to destroy it - I'm like calm down, I read the book when I was a kid too! If you re-read it - it's just a great adventure story. There is a spirituality to it, and a mysticism, and there is a parallel metaphorically about oil, the corporatisation of resources - but at the end of the day, it's about a kid becoming a leader. There's incredible action in it and really great intrigue and betrayals, it's Shakespearean in its scope and I think it'll be a blast."
Peter Berg at guardian.co.uk
One, with the advances in CGI, we'll be doing things Lynch couldn't do. Two, I had a completely different experience with the book than he did.
I look forward to taking it on as an adventure story, in the vein of "Star Wars," "Indiana Jones" and "Lord of the Rings." It's a big, bold adventure story. That's how I see it.
And, yes, I am out of my mind.
Peter Berg at austin360.com
There is a sense in the book that the commodity is driving the train. But I don't want to hang the story on that. I read the book and really liked it. What I never saw in Lynch's film was a really strong adventure story. There's a much more muscular time to be had there.
Peter Berg at The Hollywood Reporter
Cast & Crew
Studio
Paramount Pictures

Release Date
2012 (?)
Director
Pierre Morel
Peter Berg
Note: Neill Blompkamp, Neil Marshall were originally rumoured to replace Peter Berg.
Writer
Frank Herbert (novel)
Josh Zetumer (in negotiations)
Chase Palmer
Producer
Kevin Misher

Producer
Richard Rubenstein
Executive Producer of "Dune" miniseries
Executive Producer of "Children of Dune" miniseries

Producer
Sarah Aubrey
Executive Producer
John Harrison
Writer/Director of "Dune" miniseries
Writer/Producer of "Children of Dune" miniseries
Executive Producer
Mike Messina
Assistant Producer of "Dune" miniseries
Associate Producer of "Children of Dune" miniseries
Executive Producer
Pierre Morel
Co-Producer
Kevin J. Anderson
Co-author of the "Legends of Dune" trilogy, the "Prelude to Dune" trilogy, "Hunters of Dune" and "Sandworms of Dune"
Co-Producer
Brian Herbert
Son of Frank Herbert
Co-author of the "Legends of Dune" trilogy, the "Prelude to Dune" trilogy, "Hunters of Dune" and "Sandworms of Dune"
Budget
$175 Million
News
9 November 2010
Pierre Morel leaves Dune
Morel leaves Dune, and Paramount has until Spring 2011 to start production before their option expires.
more info...
29 October 2009
Peter Berg leaves Dune
Although mentioned on the dunenovels.com forum last month, it now appears official that Peter Berg is joining the ranks of directors, such as Alejandro Jodorowsky and Ridley Scott, that 'almost' directed Dune.

Apparently Paramount is talking to Neill Blompkamp (District 9) and Neil Marshall (The Descent) about taking over as director.
more info...
6 June 2008
Josh Zetumer to write Berg's Dune?
The Hollywood Reporter reports that Josh Zetumer is in negotiations to write the latest movie incarnation of Dune for Paramount Pictures. Read More at The Hollywood Reporter
more info...
19 March 2008
Richard Rubenstein, John Harrison, Mike Messina, Sarah Aubrey and Kevin Misher join Berg's Dune
Variety are reporting that New Amsterdam's Richard Rubenstein (producer of the Dune miniseries) is set to produce the new Dune movie alongside Sarah Aubrey and Kevin Misher. John Harrison, again from the miniseries, is said to be an executive producer with Mike Messina.
more info...
21 December 2007
Peter Berg confirms he'll direct 'Dune'
During an interview with MTV, Peter Berg (The Kingdom) confirm that he'll direct a new movie version of 'Dune'. Although there is no script yet there is a list of writers they want to talk to once the current writers strike is over.
more info...
16 October 2007
Paramount developing new Dune Movie?
According to Ain't It Cool News, the rumoured new Dune movie that has been mentioned on the DuneNovels forums is to be directed by Peter Berg and released by Paramount Studios. Even if the rumours are true, Dune has had a difficult past making the transition from book to screen, so don't hold your breathe...
more info...
Links