Jodorowsky on Dan O'Bannon
"I saw in a modest festival of cinema by science fiction amateurs, a film made without means that I found marvellous: Dark Star. I contacted the boy who had made the special effects: Dan O' Bannon. I was almost with a wolf child. Completely out of conventional reality, O'Bannon was for me a real genius. He could not believe that I can entrust a project as significant as Dune to him. He was obliged to believe it when he received his plane ticket for Paris. I was not mistaken: Dan O'Bannon wrote later the scenario of Alien and a good number of other films with great success."
---
Dan O'Bannon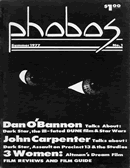 In the summer of 1975 Dan O'Bannon receives a phone call from Alejandro Jodorowsky in Paris. Jodorowsky tells O'Bannon that he is making a movie based on Dune by Frank Herbert, and wishes to talk to him about doing the special effects of the film.
A meeting was set up in a couple of weeks in LA, during which time Dan O'Bannon tries to see Jodorowsky's previous movies, to prepare for the interview. A few weeks later O'Bannon meets with Jodorowsky in a hotel room, during the interview David Carradine arrives too. Together they talk about the movie.
After a few days Jodorowsky offers O'Bannon the position of director of special effects on Dune. Two weeks later Dan O'Bannon flys to Paris, where he works on Dune for the next 6 months, in charge of 30 men, with artists from France, England and Switzerland. Alejandro Jodorowsky hires a company named Eurocitel, based in Paris, to do all the Special Effects works for Dune, with O'Bannon supervising.
O'Bannon introduces Jodorowsky to the concept of storyboards, explaining that the Special Effects shots need to be planned ahead. Jean 'Moebius' Giraud was already working as a designer on the movie, and was given the task of creating the storyboards. Eventually the entire film was storyboarded, encompassing thousands of drawings and taking four months to create.
Around Christmas 1975, with 2 million dollars already spent, and production ready to start constructing sets and props, O'Bannon was sent back to America to locate some VistaVision camera equipment. While staying with friends he received a telegram stating that the financial backers had pulled out and Dune was postponed indefinitely.
With his future now uncertain he worked with an old friend, Ron Shusett, and together they wrote a script for Alien.
Information taken from Phobos Issue 1.