Classic Dune Books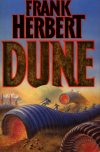 Dune
ISBN: 0-450-01184-4
This Hugo and Nebula Award winner tells the sweeping tale of a desert planet called Arrakis, the focus of an intricate power struggle in a byzantine interstellar empire. Arrakis is the sole source of Melange, the "spice of spices." Melange is necessary for interstellar travel and grants psychic powers and longevity, so whoever controls it wields great influence.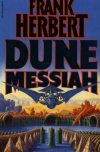 Dune Messiah
ISBN: 0-450-02285-4
Now Paul Atreides, ruler of a thousand planets, great victor of a holy war, a prince turned revolutionary leader and messiah of a fanatical religious sisterhood, is to be brought low by the very force that had created him. Yet, foreseeing the plans of his enemies, he determines to drive on towards his own, shocking different, future vision.

Children of Dune
ISBN: 0-450-03427-5
All things must pass and only change is constant. The sand -blasted desert world of Arrakis has become green, watered and fertile.
Old Paul Atreides, who led the Fremen to domination of the galaxy, is gone, but for the Children of Dune the very blossoming of their land contains the seeds of its own destruction. As the altered climate threatens extinction to the giant sandworms, fanatics challenge the rule of the Atreides family.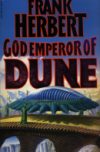 God Emperor of Dune
ISBN: 0-450-05777-1
More than a millennium has passed since the first events recorded in Dune. One link only survives with that epic past: Leto Atreides, God Emperor of the galaxy.
He alone it is who understands the future, who know with a terrible certainty that the evolution of his race is at an end unless he can breed new qualities into the species. Yet he knows also that these new and vital forces can only prove themselves through the fateful process of his own destruction.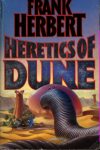 Heretics of Dune
ISBN: 0-450-05262-1
From Dune to Rakis to Dune, the wheel turns full circle. From burning desert to green and fertile land and on again to burning desert, the cycle is complete.
The people of the Scattering are returning. Amongst them, mysterious and threatening, are the women who call themselves the Honoured Matres, adepts of an ecstatic cult. And on Rakis, become Dune, an ancient prophecy is fulfilled with the coming of the she-seer, Sheeana.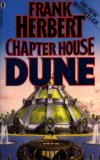 Chapter House Dune
ISBN: 0-450-05886-7
The long-established galactic order is passing. The Honoured Matres, ruthless and all-conquering, have destroyed the planet Dune. In opposition, hard pressed but still fighting back, the Bene Gesserit sisterhood co-ordinate their resistance from their as yet undiscovered home world, Chapter House.
Now as a new Scattering is planned, they still have one carefully nurtured asset; the sandworms, offspring of the only giant worm salvaged from Dune.
Chapter House is to be the new vital home for the cycle that will turn it into a barren wasteland - Chapter House will be the new Dune.